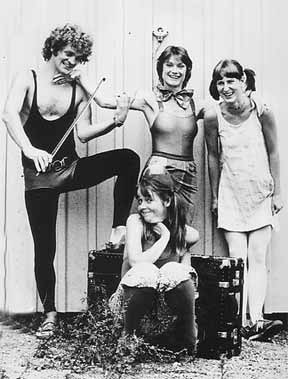 The Ten Feet Circus
Tio Fötter (which means Ten Feet in English) was founded in 1980. At the time, our company consisted of five people and was actually a dance company, which explains our name. Before moving towards theatre, we produced two dance shows: The History of Dance and Fairy Tale and Reality. One of our current members, Carin Anlér Fiske, has been with the group since the beginning, working as producer, administrator and dancer. Since 1980 we have performed for about 145 000 children and young people, mainly in Uppsala and its surroundings.

JOHN FISKE
John Fiske is an Englishman who started to work with Tio Fötter in 1981. Without a background in dance, but with experience from both theatre and music from England, John's inclusion moved the group slowly from dance towards theatre. After a few projects that combined dance, music and drama, in the form of small musicals, the group has since 1998 concentrated on producing comedies for children. John wrote four scripts for us during the eighties. He also acted in these himself.

THE EIGHTIES:
The Ten Feet Circus (1982)
Ten Feet's Servant (1983)
First, Biggest and Best (1985)
The Blue Egg (1985)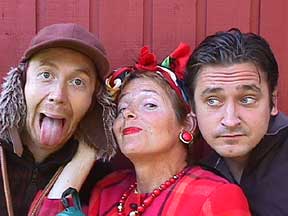 Miss Höglund´s third pet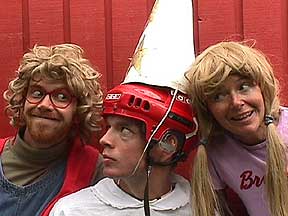 Who's Afraid of Saint Lucia?


"Fantasy injection for all age groups…will guaranteed to make you laugh yourself to death"
UNT 010423
Cecilia Irefalk gave it four of possible five.

"a warm and funny show…..The result is brilliant"
Åsa Härkegård, Örebrokuriren 030109

SETS



Lars Holm

Lars Holm, a theatre designer with experience from both Uppsala Stadsteater, the local repertory theatre, and numerous other fringe groups, has designed and built seven sets for us since 1991.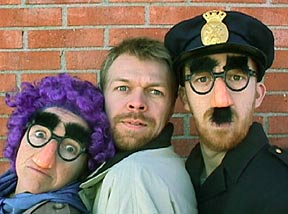 Douglas and the Pink Pipe
PLEASURE OF THE HEART (LEMON BALM)
Our eighth production in the nineties was for young people from 13-18 years old: Pleasure of the heart. It was based on a novel by the Swedish author Per Nilsson. The show was directed by Claes Åström. The manuscript was written by Klas Olsson and Malin Anclair. When we performed our show at Skandiascenen, Per Nilsson, author of the novel, was invited to give a lecture on his writing.

WHO'S AFRAID OF SAINT LUCIA?
Who is Afraid of Saint Lucia? Is a comedy for children from 5 to 13 years old which had its first performance in the spring of 2001. It was written and directed by John Fiske and was performed by Carin Anlér Fiske, Mats Lindberg and Klas Olsson.
The show is about a ten year-old boy who doesn´t want to take part in a school performance. His parents and his teacher think he is shy, but he is determined to prove them wrong…

ZIMBABWE
We participated in ASSITEJ's international theatre festival in Harare, Zimbabwe in 1998. Besides performing our English version of Wolf! we also held a workshop with participants from Zimbabwe and South Africa. Moreover, we performed this English version at the town library during the Culture Night in Uppsala and in the schools here. (This English show is still on our repertoire). In the spring of 99, Tio Fötter organised a school tour in Uppsala with Nhare Mbira Ensemble from Zimbabwe.

ESTONIA
In the autumn of 99, we organised a tour with Miss Höglund´s Third Pet to Noarootsi School and College in Estonia. As all students study Swedish there, we were able to perform in Swedish.

ARTS GRANT
In May 2001, Carin Anlér Fiske received a grant from the Arts committee of our local government for having made Tio Fötter into "the most popular theatre company among the schools of Uppsala".

SOUTH KOREA
In July 2002 we visited the 14th ASSITEJ Congress & Performing Arts Festival in Seoul. We received money from Konstnärsnämnden and the Arts committee of our local government for this trip.

PROJECT FOR DEAF CHILDREN
In January, we toured Who´s afraid of St Lucia? in deaf schools in Örebro,Vänersborg, Lund, Härnösand and Stockholm. Tio Fötter had received 110 000 Swedish crowns from the National Swedish culture department and 75 000 Swedish Crowns from Allmänna Arvsfonden to perform for deaf children in Sweden. We had two interpreters with us, Anders Mossberg and Sara Trast, who were also acting on stage. Denny Bergerholm and Bibbi Burman, both deaf, made the translation into sign language. As the original show, John Fiske was directing this version of the show as well.
Actors were Carin Anlér Fiske , John Fiske (who was stand in for Mats Lindberg in the last minute) and Klas Olsson.
Pictures from the rehearsals

DOUGLAS AND THE PINK PIPE
We opened our comedy Douglas and the Pink Pipe in 2003. The show was written and directed by John Fiske who also wrote the music. The actors were Carin Anlér Fiske, Niklas Högefjord and Mats Lindberg. This show is about the concept of normality. It has been performed about 100 times in schools in Uppland and at Regina Teatern, Katalin and Den Lilla Teatern among other places.